http://neworleans.craigslist.org/laf/1497858225.html
Text:
My chicken has been missing for almost 4 days now. I'm really upset. I have two others, and if she were out and about close by, I'm sure she'd be able to find her way home if she could hear them.
So please, if you found her and picked her up and brought her somewhere far away...well, if you haven't eaten her yet, please contact me.
Reward for safe return.
She's a Barred Rock hen. Here's one picture of a Barred Rock hen, and then here's a picture of me and my missing chicken. Her name is Dinner, by the way, but she probably won't answer to that.
you can reply here or contact me at jane doe 1224 at gmail dot com.
Here's the craigslist ad:
This morning I found a wallet on the sidewalk in front of my house. It was stripped of cash, credit and most ID. The person's social security card and some other identifying items are still intact. I would like to get this back to the person it belongs to. NOPD is supposed to be picking it up sometime today. If you think it might be yours please email me privately at amazednconfused at gmail . com
Found: one orange tabby with white underbelly in the Marigny triangle late Sunday night.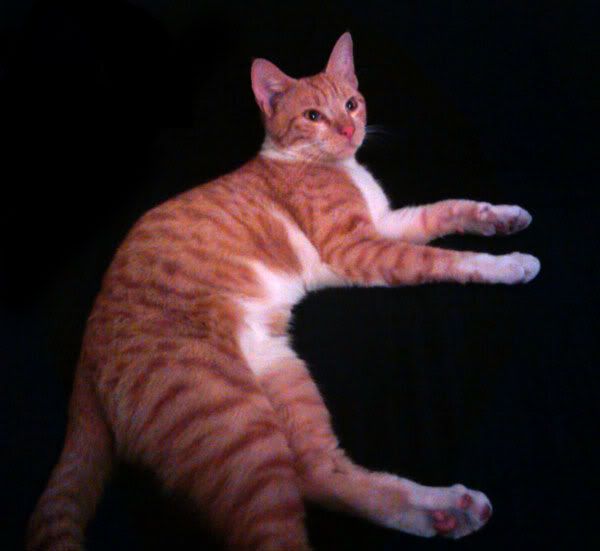 If this is your cat, you probably miss him like crazy. He is super cuddly, people-friendly, quiet and small. He seems to be between six months and a year old. He's been fixed, and his back claws have been obviously trimmed.
We're taking good care of him for you. He's off the streets, he has food and water and he seems happy. But he probably misses his family, wherever he came from.
If you or someone you know is missing a seriously kick-ass little cat-guy, respond to this ad and we'll make sure you are reunited.
(FYI- there are a few markings on this cat not shown in the photo which we will use to verify ownership)
Found Cat 3/29/09 (Marigny)
New Orleans Levee:

Kid actually sighted in Bywater

National Geographic reports a real human child was recently spotted in the Bywater neighborhood, a.k.a. The Rainbow District. "Ordinarily, only two types of hominids can be found in this particular habitat, those generally incapable of reproduction (gays) and those too enlightened to do so (artists, bohemians, intellectuals, gutter punks, etc.)," a cultural anthropologist from Tulane University said. "It was either a false sighting or an invasive species."

Bywater Neighborhood Association president and UNO professor Julie Jones added, "In this neighborhood, you'd have a better chance of seeing an ivory-billed woodpecker or a Bush supporter. It was definitely a fluke."

A research team from Cornell University has been sent down to try and verify the discovery.
From the May issue of the
A new design from a New Orleans artist...Fleur de Peace!

We believe New Orleans and cities all over the world need to cultivate peace, happiness, and a safe environment for our families, friends, and children. Please help us spread a positive message by showing your agreement in the campaign Peace while still supporting your city and heritage.

Fleur de Peace merchandise is made by a New Orleans artist using completely eco-friendly methods. Each item is silk-screened by hand by a New Orleans artist, thus making each item one of a kind!! Please help support peace all over the world, as well as at home in New Orleans.



Please e-mail us at fleurdepeace@yahoo.com !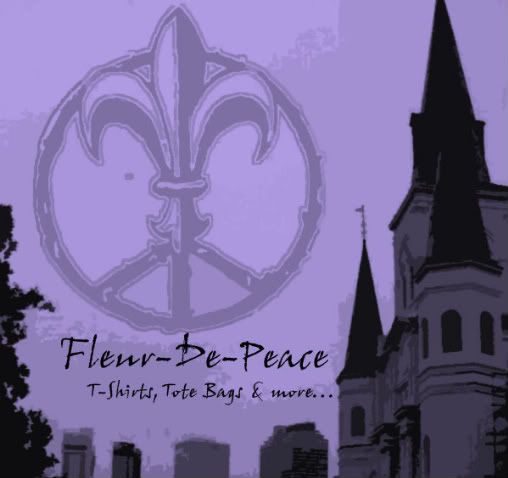 It involved lots of police cars, police shouting "get the fuck down on the ground NOW!", stretchers and ambulances- the whole shebang. It went on for about three hours.
Any idea what was going on, 3900 block of Royal, Friday night? The curiosity is killing me.
Galatoire's
)? If you know of any traditions at restaurants outside of New Orleans, that would be equally helpful!
Thanks in advance!
cross-posted to
neworleans
,
batonrouge
Does anyone know of restaurants with Mardi Gras traditions around New Orleans (such as at